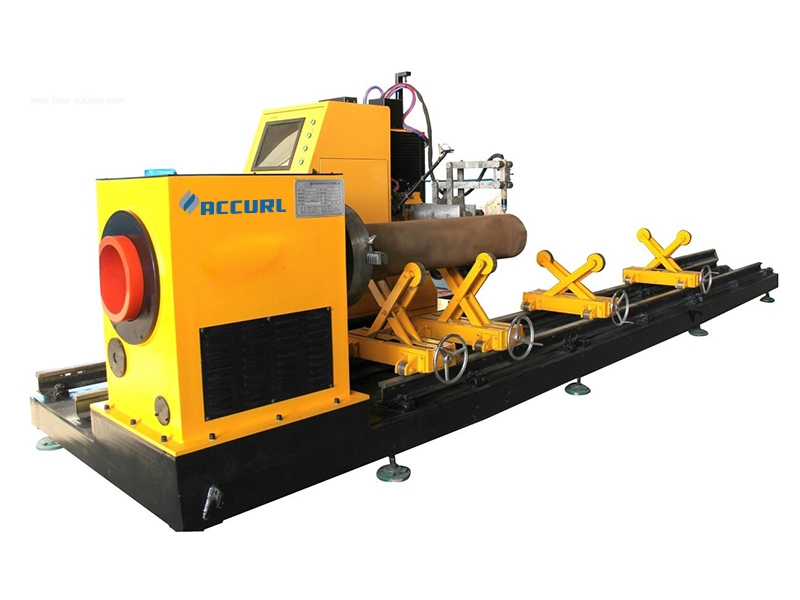 Machine Description
---
Fiber laser cutting tube / makinë prerëse tubi P2060A features
♦ Can cut lines and holes with different diameters from different directions on the pipe,and meet centrifugal and non-centrifugal vertical intersection condition for branch and main pipe axis.
♦ Can cut column Crossed Lines at the end of branch pipe,and meet centrifugal non-centrifugal vertical intersection condition for branch and main pipe axis.
♦ Can cut inclined with the main circular pipe.
♦ Can cut branch pipe intersected with the main circular pipe.
♦ To realized angel groove face,square hole,waist-shaped holes cutting.
♦ Fully automatic CNC laser tube cutting machine, which utilizes an automatic loader and unloader allowing this machine to run continuously with minimal operator involvement.
P2060A Machine Core Parts Features
---
®Automatic bundle loader for option which saves labor and loading time, achieve mass production purpose
® Round pipe, rectangular pipe and other pipes can be fully automated loading, without human intervention.
® Other shapes pipe can be semi-automatic feeding artificially.
® Max Loading Bundle 800mm*800mm
® Max Loading Bundle Weight 2500kg
® The tape support frame for easy removal
® Bundles of tubes lifting automatically
® Automatic separation and automatic alignment
® Robotic arm stuffing and feeding accurately
Automatic Collecting Device
---
® Automatic elevating support, receive tube and scrap into the basket
® Visual scale support can adjust support diameter quickly according to pipe diameter
® Visual scale adjustable support lifting device saves feeding time, ensures concentricity, prevents pipe swinging
Advanced chuck clamping system
---
® Chuck by changing the gas path, the usual four-jaw chuck linkage, optimization Cheng stroke power chuck double acting.
® Cutting different diameters, the shape of the pipe in the travel range (bilateral stroke 80mm),no need to adjust the jaw easy setup and centered.
® easy switching of different diameters, a substantial saving setup time.
Supporting wheel diameter scale adjusting
® Supporting wheel diameter scale adjusting,20-200mm range, within in 20-200mm diameter, different types of tubes,simply adjust correct scale and load the tube. Auto holding,no need to adjust concentricity
Up and down Adjustable supporting system
Easy tube Changing,Saving loading time,Less tube swinging;Guarantee Concentricity,Easier loading,Avoid Swinging,Auto lifting,Auto loading module optional
Parametrat teknikë
---
Model Number

P2060A
P3080A
P30120
Tube length
6000mm
8000mm
12000mm
Tube diameter
20-200mm
20-300mm
20-300mm
Burim lazer
IPG /N -light fiber laser resonator
Koka lazer
Raytools laser cutting head
Servo Motor
4 servo motors for all axial movements
Laser source power
700w / 1000w / 2000w / 3000w
Saktësia e pozicionit
± 0.03mm
Përsëritni saktësinë e pozicionit
± 0.01mm
Maximum position speed
70m/min
përshpejtim
1G
Shpejtësia e prerjes
depend on material, laser source power
Electric power supply
AC380V 50/60Hz
Machine Applications
Fiber Laser Tube Cutting Machine Applicable Materials
Stainless steel,carbon steel,mild steel,aluminum,brass,copper,alloy metal materials etc.
Laser Pipe Cutting Machine Industri të zbatueshme
®Furniture
Chairs, Metal Tables legs, Chair legs,Cots, Cabinet, TV Stands, TV Antennas,Doors,stainless steel table legs, Bed Frames
®Automobile
Handle Bar,Steering Column,Main Beam,Bottom Chassis…
®Transformer
Elliptical and Round Cooling Tubes
®Construction
Scaffoldings & Supporting pipes
®Bicycle
Handle Bar, Top Tube, Bottom Tube, Down Tube, Chain Stay, Back Stay, Stem Tube, Pedail Tube, Seat Pillar, Fork Blade.
®General Engineering
Bus body structures, main beam for pedestal lfans,textile,Frames…
® Oil Industry
Perforating gun tube
® Medical Device
® Fire Control
Detaje të shpejta
---
Aplikimi: Prerja me lazer
Gjendja: E re
Lloji i lazerit: lazer me fibra
Applicable Material: Metal,SS,MS,CS,Aluminum,Brass,Copper,Galvanized steel
Trashësia e prerjes: 0-20 mm
Cutting Area: tube length 6m,8m,tube diameter 20-300mm
Cutting Speed: 70m/min
CNC ose Jo: Po
Mënyra e ftohjes: ftohja e ujit
Programe kontrolli: Cypcut / Germany PA HI8000
Formati Grafik i Mbështetur: AI, BMP, DST, DWG, DXF, DXP, LAS, PLT
Vendi i origjinës: Anhui, Kinë (kontinent)
Emri i markës: ACCURL
Model Number: P2060A / P3080A / P30120A
Certifikimi: CE, ISO, SGS
Shërbimi pas shitjes i ofruar: Inxhinierë të disponueshëm për makineri shërbimi jashtë shtetit
Laser source power: 700w / 1000w / 2000w / 3000w
Tube length:6000mm/8000mm/12000mm
Tube diameter: 20mm-300mm
Burimi lazer: IPG / rezonator lazer me fibra N-dritë
Koka me lazer: Kreu me prerje lazer Raytools
Servo Motor: 4 servo motors for all axial movements
Saktësia e pozicionit: 3 0,03 mm
Përsëriteni saktësinë e pozicionit: ± 0.01 mm
Përshpejtimi: 1G
Furnizimi me energji elektrike: AC380V 50 / 60Hz
---
makinë prerëse e tubave cnc
,
aparat për prerje lazer
,
makinë prerëse tubi katror