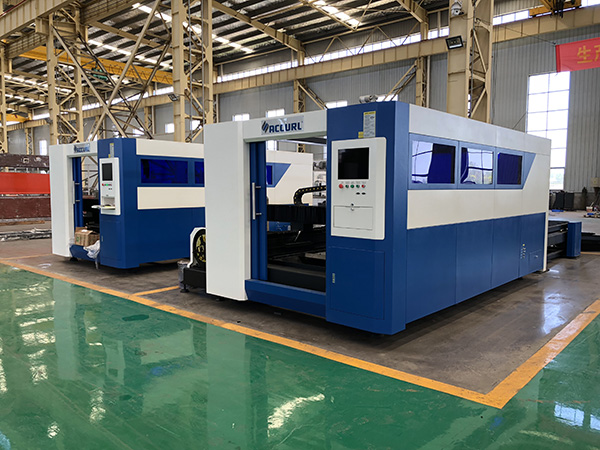 Main parameters of machine
---
Laser power:500W

Pulse frequency: 1-20000HZ
X/Y axis re-orientation accuracy: ±0.03mm
Cooling type:water cooling CW6100
Laser type:fiber laser
Position system::the red light
X-axis:3000mm    Y-axis:1500mm   Z-axis:120mm
Servo motor & driver:Panasonic brand from  Japan
Power supply:380V/50HZ/60A,3 phases
Laser wavelength:1070-1080nm
Max.cutting thickness of  carbon steel:6mm
Machine running:TBI ball screw and PMI lead rail from TaiWan
Laser source brand:Maxphotonics
Woking size:3000mm×1500mm
Graphic format supported:Autou CAD/Coreldraw
Fiber 500w machine cutting stainless steel/Carbon steel/thickness/mm with speed m/min
Laser principles:Laser is Light Amplification by Stimulate Emission of Radiation,it is means that simulated radiation of optical frequency amplifier,it is a new power with coherence,monochromaticity, directivity and VHO very high output ect characteristics.
Avantazhet e prerje lazer fibre
---
1.Very low cost,every hour only consumed 0.5W to 1.5W electricity,cutting all kinds of sheet metal by air;
2.International advanced max photonics brand fiber lasers,high and stable function,lifespan is over 100,000 hours;
3.Higher cutting speed and efficient,speed of cutting sheet platse can reach over 20 meters;
4.Laser free maintenance.
5.Smooth and fine edge or surface and small deformation;
6.Imported servo motor and gearing system to guarantee precise cutting with high efficiency;
7.Dedicated software enables graphic or text to instantly designed or processed.Flexible and easy operation.
Gantry type mechanical structure,compact taking up small area Beautiful and dignified in appearance,war industry technics and backfire treatment;high working efficiency and steady erformance,it can obtain more than 10 years lifespan.
China Famous Maxphotonics laser source, fiber laser source 500W.
Working table: 1,High precision CNC fixed working table; 2,Special designed small pneumatic wheel carriers ,the metal sheet to be cut may slide along the machine body for easy loading; 3,Strip working table; Steel material,put cutting sheet on it .
Automatic Focusing Height Follower: USA improved technology and adpot China patents, An automatic sensor senses the capacitance from the tip of the isolated cutting nozzle to the metal being cut. This data is then fed into the Height Follower Controller;if the metal sheet have wavy surfaces,the focus height follower can ensure constant distance between the focal plance and the plane of the metal sheets to be cut,so that consistent cutting quality can be achieved,It can avoid defects caused by wavy metal
Drive System: 1,Imported servo system ensures the possibility of realizing extreme precise positioning with the excellent dynamic response acceleration property and closed loop control method, and that makes moving positioning mechanism operate smoothly, reliably and free of maintenance; 2,Motors in X,Y,Z axis; loacation accuracy: ≤±0.04mm
Control System:Industrial PC control,easy operation and automatic programming.
Operation Cut System Software,support AutoCAD,Coreldraw: The professional cutting software which supports cutting path in dxf, plt and other graphic formats;capable of setting cutting parameters in different layers;combining joined lines to ensure automatic splice of curve nodes;smoothing fold lines to obtain smooth cuts;optimized immediately after the completion of graphic design,thus improve the productivity.By making use of the compensation function of this professional cutting software,various cutting accuracy grades may be obtained.
Gas Supply System: 1, The gas can flow away the cutting dust ,keep the clean of the machine and working enviroment; 2, Air, Oxygen and Nitrogen, Argon gas, Xenon gas and other inert gases can be used to cut. Oxygen cuts thicker than Nitrogen, but Nitrogen cuts smoother than Oxygen on the edge. Normally, customers will buy gas from local market, it's cheap and convenient, and customers can choose different gas to cut metals accroding to the metal thickness.
Detaje të shpejta
---
Aplikimi: Prerja me lazer
Gjendja: New
Lloji i lazerit: lazer me fibra
Materiali i zbatueshëm: Metal
Trashësia e prerjes: 0-30 mm
Sipërfaqja e prerjes: 1300 * 2500mm
Shpejtësia e prerjes: 0-40000mm / min
CNC ose Jo: Po
Mënyra e ftohjes: Ftohja e ajrit
Programe kontrolli: Cypcut
Graphic Format Supported: AI, BMP, DXF, DXP, LAS, PLT
Certification: CCC, CE, ISO, SGS
After-sales Service Provided: Engineers available to service
---