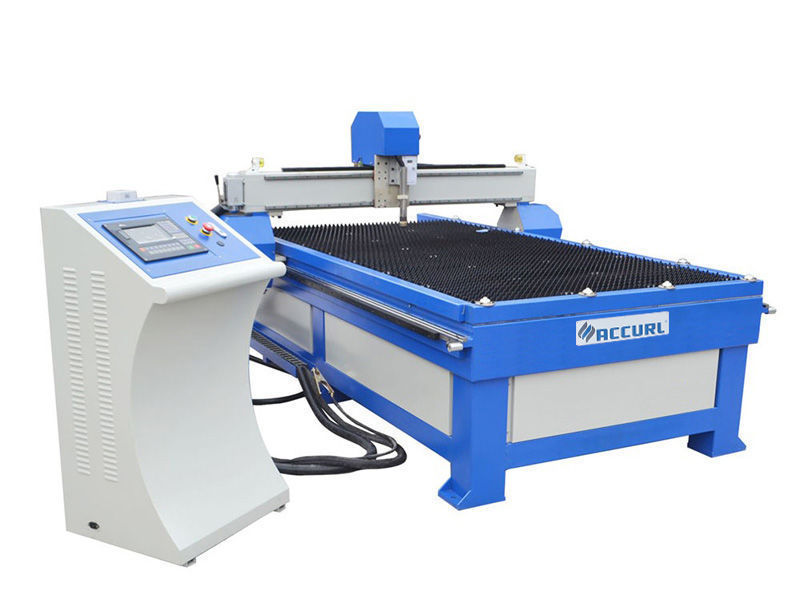 Metal Sheet 3D True Hole CNC Plasma Bevel Cutting Machine
CNC Micro Edge PRO Plasma Cutting Machine is one of our most popular machines.
We are professional manufacturer of CNC plasma and flame cutting machine.
Our CNC system contain Hypertherm Micro EDGE PRO, EDGE PRO, SJTU-SK, HC6500, etc.
All the above cutting machines have plasma and oxy-fuel flame options.
Our main products are: Makinë prerëse e plazmës CNC, CNC Flame Cutting Machine, CNC Oxy-fuel Cutting Machine, CNC Plasma Cutter, CNC Flame Cutter, CNC Plate Cutting Machine, CNC Cutting Machine, CNC Pipe Cutting Machine, CNC Profile Cutting Machine, CNC Pipe Cutter, CNC Plate Cutter, Oxy-fuel Cutting Machine, Cutting Table, Gantry Type Cutting Machine, pipe fixed-length cutting machine, CNC bevel cutting machine, CNC pipe beveling machine, Micro EDGE PRO System Cutting Machine, etc.
Plasma: Hypertherm, Thermal Dynamics, Kjellberg, Tayor LGK, ESAB, etc,
CNCTG series cutting table
  Economical and Practical
    Good finish surface, almost no secondary treatment
  Simple to use
  No need more foundation preparation, space saving
  Split-type designing, Facilitate loading and transport
  G code and M code recognizable
CNCTMG series cutting table
 High speed and precision
 Compact and integral structure
 Precision linear guide driving
 Great finish surface, dispense with secondary treatment
 Excellent running stability and higher precision cutting ability
 G Code and M code recognizable
CNCDG/CNCSG series gantry type cutting machine
 Heavy-duty and Durable
 CNC Oxy-fuel and plasma cutting torch
 Beveling and strip cutting torch
 Integrated auto-ignition with automatic height controller
 Various optional items, expand machine capacity
 G code and M code recognizable
CNCXG series pipe cutting machine
 Efficiency and flexible
 3D Cutting and beveling
 Oxy-fuel and Plasma cutting module
 Touch screen panel, convenient and fast data inputting
 Compatible with Steel Structure design software
 Maximum cutting pipe diameter 1500mm
---
Gantry and box type welded structure, annealed, long service life, steady and durable under heavy load and high duty cycle condition.
Gapless gearing transmit, stable and smooth running in high speed, so that we can achieve excellent cutting quality.
Integrated auto-ignition with automatic height controller, keep the proper height between cutting torch and work piece, so that we can achieve the best cutting quality.
Able to cut work piece with several torches at the same time, can improve cutting efficiency
Low use and maintenance cost, dispensing special maintenance, friendly operator interface, easy to learn
Reliable, safe cnc system, automatic programming, optimization nesting and piercing path, so that we can save steel effectively
Optional items:
---
Powder marking device
Straight line stripe cutting torch
Straight line triple beveling torch
Rotary triple flame curve beveling torch
Rotary plasma curve beveling torch
Blow and draft dust and fume collection system
Water surface and underwater cutting table
Cutting Technical Data
model
CNCSG3000
CNCSG3500
CNCSG4000
CNCSG5000
CNCSG6000
CNCSG7000
CNCSG8000
Effective Cutting Width (mm)
2200
2700
3200
4200
5200
6200
7200
Track Width (mm)
3000
3500
4000
5000
6000
7000
8000
Effective Cutting Length (m)
2m less than track length
Cutting Thickness(mm)
Flame:5-120(Max 300mm)  Plasma:1-80
Komponentët themelorë
Mënyra e prerjes
Plasma and Oxy-Fuel/Flame
Modaliteti i makinës
Servo motor, Dual-drive
Prerja e numrit të pishtarit
Customization
Motori i drejtimit
Panasonic/Yaskawa
Kontrolluesi CNC
Hypertherm EDGE Pro/Micro EDGE Pro, LKNC-3200, SJTU-SK, Burny
Available Plasma Power
Hypertherm, Kjellberg, Thermal Dynamics, ESAB
Programe programimi
Fastcam, SmartNest, Hypertherm
Supply power voltage
3×380V±10% 50HZ/according to user's local condition
Gjuha e operacionit
Multilanguage
Makinë për prerjen e plazmës 3D
,
makine me e mire e prerjes plazmatike cnc
,
makinë kompakte prerëse lazer
,
makinë prerëse metalike plazmatike
,
makinë prerëse e profilit të plazmës