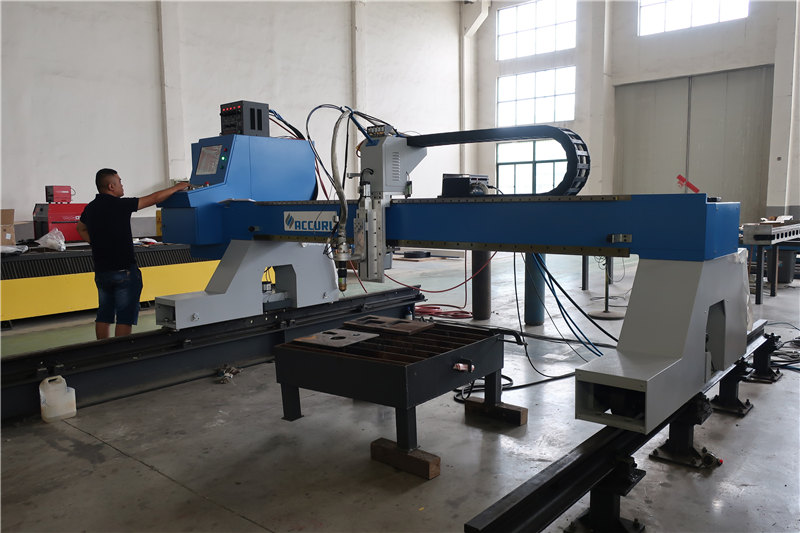 përshkrim i produktit
---
CNC cutter is a computer control, precision machinery and oxygen-acetylene gas cutting combination, and high efficiency hot cutting automation equipment. Its numerical control cutter can cut any shape of the plank. On the other side of the door frame, installs several torches, which can be used to cut serval straight lines on plate. Heating and cooling the plate at the same time, which fundamentally eliminate the phenomenon of the bending.
This machine is mainly consisted of shape frame (active, passive drive girders, beams), vertical guide (active, passive), longitudinal (muti head) cut torch, lateral (CNC) cut torch, gas supply system and the numerical control system etc. Active, passive drive girders, beams all apply box girder type welding structure, to eliminate stress after welding process, the structure is compact and neat. The longitudinal beams active driver walk, "ri ding" AC servo motor drive a planetary reducer, and then through the super-modulus gear transmission way. Can adjust driving beam side level guide wheel partiality axis make through guide wheel press guide rail, to ensure the machine in the operation of the whole smooth and precision. Vertical guide (active, passive) are using high strength tracks production, tracks' interface in precision machining. Outside of the leading guide rail has precision grinding gear rack. Active and passive guide rail fixed through the linking piece pad and link cover to realization, the set of the installation can ensure that guide the longitudinal the straightness, parallel degree, etc. Transverse cutting torch installed in horizontal drag on board, the walk also USES "ri ding" AC servo motor drive a planetary reducer, and then through the super-modulus gear transmission to realize. Active and passive cutting torch dragging plate steel belt transmission, steel belt has high intensity of elasticity, on both ends of the beam can guide wheel tensioning steel belt. Gas supply using two decompression, then shunt supply. Prevent tempering device can ensure the smooth and free gas path.
Electrical control part:
Nc cutter electrical control part, is made of numerical control (the following system optional), electrical, servo. Our CNC control system are apply domestic and international famous brands. System is modular structure, wir layout is simple and reasonable, standard, convenient and easy for maintenance. Because of the scale integrated circuit, it has small in size, stable in performance advantage; System with fault history records, fault alarm, self diagnosis, effectively protect the safety of people and equipment; The system has a variety of language menu (including Chinese), can be very convenient for the man-machine dialogue, with multiple input methods, flexible operation, also can connect with a PC communications for realization of automatic programming, because realizing the computer operation, greatly facilitate users, save time, ensure the stable and reliable operation.
Supply scope and component unit:
(1) the frame assembly including: Longitudinal cart, transverse car, straight cut torch guide rail, pipe, steel belt, hanger, drag chain, steel belt mechanism;
(2) rail assembly including: 15 m X 2 active and passive (24 kg/m) guide rail, rack, press plate and adjust the cushion block and so on;
(3) cut torch assembly including: 2 group of CNC cutting torch, 9 groups single straight cut torch, cut torch adjustment frame;
(4) drive assembly including: Servo motor, high precision gear reducer, gear, rack walk;
(5) the electric control system including: The numerical control system, numerical control box, operating keyboard, high voltage control box, etc;
(6) air containing assembly: The total air hose, hang line blocks, etc.; 5 + 3 of the confluence of row.
(7) spare parts
model
Drive way
two rails' distance (mm)
effective cutting width (mm)
cutting thickness(mm)
cutting speed (mm/min)
max speed (mm/min)
cutting torch vertical route(mm)
CNCI-3000
single side
3000
2100
6-100
100-750
6000
150
CNCI-3500
single side
3500
2600
6000
150
CNCI-4000
single side
4000
3100
12000
150
CNCII-5000
double sides
5000
4100
12000
150
CNCII-6000
double sides
6000
5100
12000
150
CNCII-7000
double sides
7000
6100
12000
150
CNCII-8000
double sides
8000
7100
12000
150
CNCII-9000
double sides
9000
8100
12000
150
CNCII-10000
double sides
10000
9100
12000
150
cnc makinë prerëse e plazmës
,
prodhuesit e makinave për prerje plazma cnc