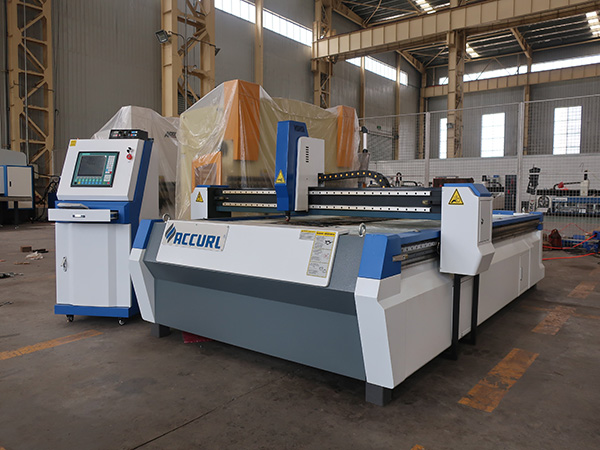 1. Main Features:
---
1. Adopting Sweden ESAB, Japan KOIKE beam, square tube structure through stress-relief and surface oxidation treatment, with high rigidity, high strength, corrosion resistance and guaranteed operation accuracy.
2.Cutting torch lifter use towing chain type cable trailer to ensure that the air-pipes, wires be in good protection;
3.Cross-beam lifter use one main and multi servo movement method in horizontal direction, up to 6 lifers can be installed on, that is,6 cutting torches, each lifter equipped with a cutting torch and a lifting mechanism;
4.In longitudinal direction, using bilateral drive method;
5.Longitudinal configuration is equipped with high-precision rack, dedicated heavy-duty railroad rail ( NO.40 rail ), running reliably and accurately, and working surface use finishing grinding technology to ensure the smooth operation and accuracy of the machine.
2. Standard Configuration:
---
Shanghai Fangling F2300 CNC system
X,Y-axes use linear guide rail, Z-axis use ball screw
HIWIN ball screw and polished rod with accuracy of 0.05mm
Fixed type large-scale operation system
Adopting FASTCAM/SMARTCUT CNC cutting software
Adopting Japan Panasonic P80 cutting head
X-axis driven by double motors, Y-axis driven by single motor
France Schneider electrics
Safety standard(2006/42/EC)
3. Shanghai Fangling F2300 CNC system:
---
Up to 45 commonly used graphic library
Graphic scaling, rotation, mirroring
Graphic matrix, interleaved, and repetitive
According to the thickness of the steel plate, it can automatically limit the speed in the corner, effectively prevent over-burning
Conversion between Metric system and British system
Graphical steel plate correction
Coordinate system is customizable
Customizable IO
System and parameter backup, online upgrade
All Chinese / foreign language ( English, Japanese, Russian, French, other custom language ) operation menu, one keyboard toggle
Line and number are selectable
Support edge cutting, offset cutting
With power-off, breakpoint protection memory function
Dynamic / static fabricating graphics display, graphics zoom in / zoom out, dynamically tracking cutting point under zoom-in status
Support Wentai, TYPEIII , PM2000 and other special nesting software
File storage: electronic storage disk, 1G
User program space: 1G
Control accuracy: ± 0.001mm
4. Arc-Voltage Regulator:
---
HP1201 portable arc-voltage regulator, designed for portable CNC cutting machine, light gantry CNC cutting machine.
Can be embedded into the cabinet panel, good integration, simple wiring
New brand design, use SMT ( Surface Mount Technology ) and the latest chip design
Comprehensively enhance the reliability and anti-interference ability, adding a variety of protection circuit
Liquid crystal display, real-time display status and parameters, simple and intuitive
Built-in "isolated voltage plate", can match with the 1: 1 or 50: 1 arc-voltage input
Intelligent arc voltage, control accuracy, manual speed, automatic sensitivity and other adjustable parameters
All-in-one console that can be directly embedded into cutting machine, full-featured, compact body,
High precision voltage collection, PWM control DC motor, smooth operation, high sensitivity
5. Flame Cutting Gun:
---
The whole machine is manufactured by high-quality forged steel
Adopting equal pressure structure
The outside diameter of the casing tube is 30mm and 32mm
Five different lengths of casing tube: 180mm, 250mm, 370mm, 450mm
The rack can be installed in four different positions ( apart 90 °each position )
Applicable to the equal-pressure cutting tip with 30-degree conical surface
6. Australia FASTCAM (Standard Edition) Software:
---
Australian FASTCAM ( Standard Edition ) software is the standard software, as for automatic nesting and common side, you need select SMARTNEST ( Expert Edition ) or FASTCAM ( Expert Edition ), which can convert CAD graphics or computer graphics into G code for cutting parts, G code files will be restored into USB and input into the cutting machine, then the controller automatically converts the G code into cutting program. This kind product is equipped with USB interface convenient for the program transmission. Set the slit compensation value in nesting software. Program software ZZ-TL ( optional FASTCAM ) is AutoCAD-based automatic programming and nesting system, Designed for all kinds of CNC cutting machine, it can help users drawing, programming and nesting to the utmost, it is not only easy to operate, but also bring obvious economic benefits for users.
- Drawing method: Taking advantage of AutoCAD powerful drawing function for parts drawing, nesting, and through DXF, DWG file data processing; automatically generate the necessary cutting codes.
- Cutting process: the cut-in point can be from the corner or edge; cutting way you can choose circular or linear cut-in; slit compensation function can calculate the actual cutting trajectory; cutting path and direction can be set at will.
- Nesting means: based on AutoCAD free operation on parts drawing, such as translation, rotation, replication, mirroring, scaling, array etc. the nesting can be enlarged for fine treatment through the window operation technology.
- Screen simulation: the actual cutting processing trajectory can be simulated on the screen, simulating the cutting process, and can zoom, move arbitrarily.
- Intelligent nesting software supports R12, R13, R14, A4, 2002, 2004, 2005, 2007 and other edition AutoCAD.