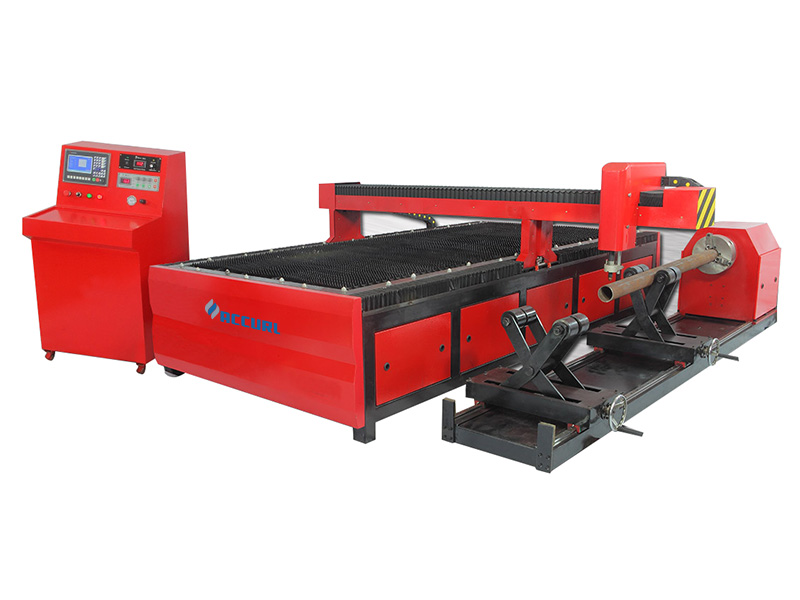 përshkrim i produktit
---
CNC Pipe Flame and Plasma Cutting Machine
It has features as following:
1. Several models available (16"type, 24" type, 32" type, 48" type, 60" type);
2. Automatic pipe cutting precision: + 1mm;
3. PLC system control;
4. High efficient pipe cutting with automatic self-measuring, automatic pipe end beveling; Intersection line profiling for both main and branch pipe function;
5. Multi-axis cutting machine can profile more complicated outlines with bevel;
6. Widely used for C. S / Alloy Steel pipe spool fabrication.
AUTO Two-axis/Six Axis CNC Flame / Plasma Pipe Cutting and Profiling Machine can be used for the cutting and beveling with various pipe materials in fixed angle, different pipe end shapes, grooves and holes. It is consists of CNC rotating and lifting roller conveyor, CNC vertical cutting carriage, guide rail, electric control system, air course system, plasma system, loading/unloading mechanism, etc. By feeding the workpiece onto the CNC rotating/lifting roller conveyor, and then lowering the conveyor leaving workpiece onto the rotating roller, it is able to cut and bevel pipes automatically with selected parameters through Programmed Control System.
The combination of automatic programming and manual programming can realize the jacking cutting, with the function of cutting uprightly, cutting in any angle (manual adjustment), cutting with angle turning, multi-section elbow unfold cutting, intersection line cutting of plug-type/riding-type, etc. It is with characteristics of reasonable organization, easy operation, and high efficiency.
NAEC provides optimized consulting/ designing / planning / implementation services to EPC companies, contractors, fabricators, etc. For Oil & Gas industries. We are professional to provide a package of solutions to help customers achieve higher efficiency, non-defective quality and better management of fabrication projects, thus increasing customers' value.
We can help you with the following:
1. Planning your workshop, even the plot and providing the most suitable layout
2. Providing all solutions including material shot blasting and painting, cutting, edge beveling, fitting-up, welding, handling, non-destructive testing(DR/UR), PWHT
3. Providing management solution covering the entire lifecycle of a project from its preliminary material list, through planning, designing and to final implementation
4. Providing fast installation and dismantling solution of fabrication workshop
5. Providing Pre-WPS and supporting clients to do WPS/PQR that meeting API650, ASME, AWS standards
6. We can help you to get average 0.25manhour/DI layout design
For more questions, kindly pls contact with us. Thank you!
Informacioni bazë
Model NO.: AUTO PCM R(II) -A
Certifikimi: CE, ISO 9001
Gjendja: E re
Control Mode: PLC
Several Models Available: 16"Type, 24" Type, 32" Type, 48" Type, 60" Type
Automatic Pipe Cutting Precision: + 1mm
Marka e markës tregtare: ACCURL
Specification: SGS, ISO9001
Origjina: Anhui, Kinë
HS Code: 85153190
---
cnc makinë prerëse e plazmës
,
makinë prerëse e tubave cnc
,
makinë prerëse e profilit të plazmës